Glimpse Of The Workshop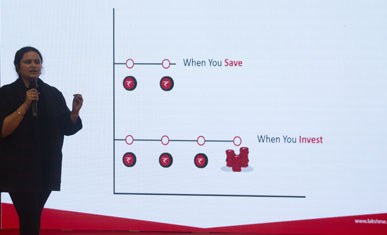 Maitry Shah had an interactive session with more than 50 young customer care members of Prudent. It was an informative session on gaining financial self-reliance. The topics covered were the significance of investments, needs vs wants, identifying bad money habits, and thumb rules of personal finance.
Q&A
Because learning starts with questions
How we can control our spending?

Before you are influenced to buy, ask yourself whether you need it, whether can I afford it, and whether can I avoid it Then, create a budget and list down your expenses and income so that you can find out if your expenses are overshadowing your income or not.
How much should be emergency fund?

An emergency fund is a savings corpus that is designed specifically to finance the requirements of an emergency. Whether it is a medical emergency, job loss, or a rough business cycle, an emergency fund helps you tide over the contingency and meet its financial demands. One should have at least six months of income as an emergency fund.
What initial steps should I take to begin my financial journey?

(1) The first step is to analyze your income and expenses by creating a budget. (2) Then create a short-term goal to build up an emergency fund. (3) Insure your life and health. (4) Start saving and investing for your retirement.