Glimpse Of The Workshop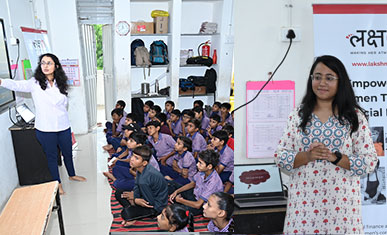 A Workshop at Amiyapur Primary School on Financial Literacy for approximately 75 Primary Students. The key points covered were Banking, the Role of RBI, Banking services like RTGS, IMPS, NEFT, UPI, Cheques, Debit cards, credit cards, and loans. And ending the session with a Fun quiz round, it was an enriching and interactive session.
Q&A
Because learning starts with questions
What is MICR Code?

Magnetic Ink Character Recognition Code, shortly known as MICR code, is a 9-digit character recognition technology used mainly by Banks to streamline the processing and clearance of cheques and other documents.
Why can we not take a loan for organizing a birthday party?

Generally, it is insisted that loans are debt tools so one should take a loan for purposes by which asset creation is possible. Like education loan, home loan, etc are a good type of debt but loan taken for personal use like organizing parties or going on vacation is a bad type of loan, one should avoid taking that.
What does RBI do?

The Reserve Bank of India, shortly known as RBI monitors and regulates the banking structure in India. It is the central bank of India. RBI also controls the inflation rate. It also issues currency notes and is a governing authority for all the Banks in India.